Volkswagen again promises improved service
VOLKSWAGEN Group Australia (VGA) managing director Michael Bartsch has placed dealerships on notice after again promising the company would improve its servicing and customer relations, almost a year after a previous commitment to do so.
Mr Bartsch again confessed that Volkswagen customers continue to be "let down in Australia (by) ownership costs and in the servicing" and this remained "an area where we have a lot of work to do" but he explained that greater investment is now in place to address the issue.
As evidence of reform, the managing director listed the creation of a board-level director of customer experience position for the first time, increased goodwill for dealerships working on vehicles outside the warranty period, new service centre standards, website-published 'star' ratings for each dealer based on customer feedback and an elevation in the status of master technicians.
"We have made it very clear to the dealers that we are making substantial commitments to the training and the retention and the elevation of the status of (master technicians) and we expect them to do the same thing," Mr Bartsch started.
"If you talk to our dealers I think the message is loud and clear. It is the centre point of every business meeting and discussion we have with them."
Mr Bartsch described it as a "sad" reality that in Australia the wages and status of technicians was not elevated to a higher standard, but he said this was being addressed by a new graduation program this year.
"We have 35 master technicians graduating at the end of the year and that is a Wolfsburg, global German standard, this is not a turning up and get a gold medal exercise," he explained.
"Those 35 master technicians and any master technician will receive from Volkswagen for their tenure, an Amarok as their own car.
"When you look at cars these days, somebody working on a good European car is the equivalent of an Apple geek, but the conditions, the wages, don't reflect it. Fellows that are coming through underestimate how important they are and what skill levels they have, and where they sit in the world of tech.
"We're not attracting enough people, so what happens is the fellows that come into this industry they're aspiring to get up into the Mercedes and the BMWs and the Audis, and what we have to do … is it's not only about the ownership experience and the service experience, it's about the experience of working for Volkswagen.
"I think that's affecting to an extent the experience in Australia."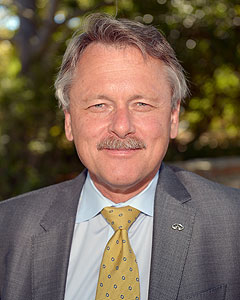 Left: VGA managing director Michael Bartsch.Mr Bartsch acknowledged the higher servicing fees Volkswagen charges compared with other mainstream brands, but he stressed that a "culture" change was required to improve the dealership experience and to offer "value" for the owner.
"We expect clear brand separation in the dealerships (and) we expect a level of fit out and presentation the equal of a BMW or Mercedes dealership," he said, adding that a good test is whether a customer would rather sit in the dealership and wait for their car to be serviced, or leave and then return.
"The issue of (servicing) cost is something that is not only driven by the reality but also the perception.
"If you're having your car serviced and the centre is full of Holdens and the labour rate is $20 per hour more than what you're being charged for on the Holden side … the feeling will be you're charged too much."
Mr Bartsch added that new internal protocols were in place to pull dealerships into line, including the appointment of Jason Bradshaw to the new director of customer experience position.
"You don't want to be seen in Jason's office on a Monday morning because you're probably not going to be there in the afternoon," he mused.
"(He) has put in a Google-type star rating that is on the dealership site, so that when someone is pulling up a Volkswagen dealership they can see whether they are two stars, three stars, four stars or five stars."
Customers will be able to rate each dealership based on their experience.
Mr Bradshaw added: "The biggest distinct difference between us saying a few years ago that we were focused on customers and today is that eight months ago the company created … for the first time in Volkswagen Group's history … a board level role that is purely focused on driving a positive, premium experience for our customers.""This year is about resetting the baseline so we can continually build on exceeding the customers' expectations."
Mr Bartsch stressed that the issues surrounding the customer experience were not only the fault of dealerships.
"I want to make it clear it's not just with the dealers, it was us internally as well," he added.
"I think it was fair to say we never questioned processes … there were some very interesting facts in the customer experience centre (and) some of them are pretty ugly."
Asked when major customer experience changes could be clearly measured, Mr Bartsch replied: "If we're sitting around here in three years' time and you haven't noticed it, then I'm in trouble."
Last year Volkswagen improved its standing in the annual JD Power Customer Service Index study that ranks car companies based on their levels of customer and aftersales service.
In 2014 it was bottom of the mainstream brands with 765 points, with a market average of 790, while last year it lifted to 791 (797 market average) to sit above Holden, Suzuki and Jeep.
View original article at https://www.goauto.com.au/news/volkswagen/volkswagen-again-promises-improved-service/2016-08-19/20551.html